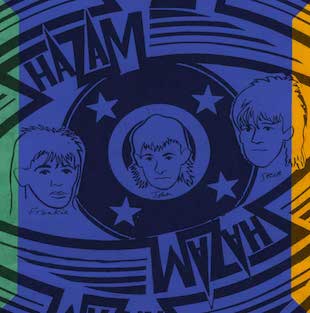 Mannequin Records is proud to present the 12" reissue of one of the rarest minimal synth singles ever released in UK, cradle of DIY post-punk and minimal synth bands inspired by Kraftwerk, Tangerine Dream, the early 4AD, Mute and Factory Records singles.
In 1983 the Neo Romantic BlitzKid music of synthesists John Mellor, Steve Millard and Frankie Abbot created new waves in the sedate seaside resort of Penzance Cornwall.
Dave Hastilow, a record producer, sound engineer and analogue synthesist himself who had worked for Pete Townshend of The Who became interested in their music and took them into a local recording studio installed in an old wartime bomb shelter, also playing drums on the track and crafting the sound using the natural acoustics of the concrete bunker. The result was 'Lets Get Together' and 'Memories' and he named the band Shazam.
Limited edition of 250 copies
Tracklist
A – Let's Get Togheter
B – Memories
Remastered by Rude 66.