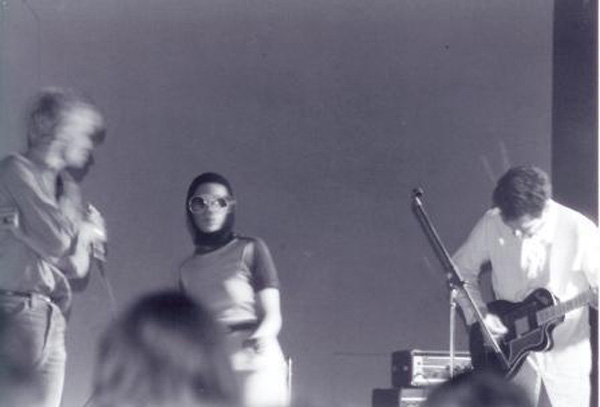 Early pioneers of the German New Wave music scene, Din A Testbild were formed in 1978 by Mark Eins and Gudrun Gut (former member of Einstürzende Neubauten, Mania D. and Malaria!). Din A Testbild played a significant role in defining the avant-garde music of Berlin. Legendary is their partecipation at the "Festival Genialer Dilletanten" in 1981.
'Programm 3' is their third album. Mixed and auto-produced by Mark Eins with help of Ziggy Schöning, it was released on Klaus Schulze's record label Innovative Communication in 1983.  Pre order
'Programm 3' represents a moment of distance from the 'kraut' past of the band. Moving out from the legendary Schulze's studio into a home recording dimension with a basic equipment (Roland TR-808, Moog Source, EMS Synthi, tape loops), the sound of Din A Testbild is radically changing, getting closer to the experimental-electro and connecting the Neue Deutsche Welle with the cosmic disco. It's well known in fact that Din A Testbild were a favourite in the playlists of the Italian dj pioneers Daniele Baldelli and Dj Mozart, while nowdays you can find them in Matt Edwards/Radio Slave home listening mixes.
'Programm 4' is their fourth album. Mixed and auto-produced by Mark Eins near the Wall in West/Berlin in 1983, the album was rejected at the time by Innovative Communication, considered too much "synth/punk/techno", while the new label managers were looking more into new age stuff. In fact Schulze eventually sold the label in 1983, which started to release a plethora of acts loosely grouped around the NAM genre. Pre order
The album was engineered by Manuel Göttsching (a long time friend of Mark Eins) and remained under the ice for more than 30 years until Mannequin Records head Alessandro Adriani get in touch with Mark Eins and convinced him to show/hear the unreleased album. Recorded with basically the same setup of the previously released number 3 of the serie, 'Programm 4' goes even further and faster in pushing the TR-808 and the arpeggios to the limit, imagine a sort of Clara Mondshine on speed or looking to Europe widely in that period we can find many similitudes with Portion Control and Neon Judgement.
Original reel-to-reel master tapes imported and processed by Frieder Butzmann.