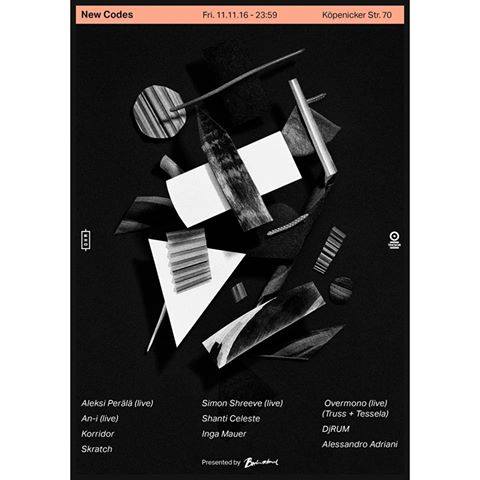 The first New Codes after Berlin Atonal 2016 welcomes a stacked line-up as usual to Tresor, Globus and at OHM.
Aleksi Perälä's live show was a festival highlight at Atonal this year, and he has been invited back, this time to the Tresor vault, to reprise his intricate, expansive and punishing take on experimental techno. Joining him downstairs are Alessandro Adriani (boss of Mannequin Records), Korridor for an extended live set and Simon Shreeve, also known as Mønic, from Tresor Records, Downwards Records and Osiris Music UK fame.
In Globus Chilean-born, Bristol-based producer and DJ Shanti Celeste plays her own inimitable mix of contemporary club sounds, from lofty house vibes to the mechanical funk of electro and techno. She is joined upstairs with Djrum and Skratch.
OHM sees the German debut of Truss and Tessela's Overmono project in a live show, bookend by sets from Inga Mauer and An-i.
Line Up:
Tresor
▬▬▬
23:59 – 02:30 Korridor (Northern Electronics)
02:30 – 04:00 Simon Shreeve [live] (Downwards Records)
04:00 – 05:30 Aleksi Perälä [live] (AP! MUSIC)
05:30 – end Alessandro Adriani (Mannequin (Label + Mailorder))
Globus
▬▬▬
23:59 – 03:00 Djrum (Ilian Tape)
03:00 – 05:00 Shanti Celeste (FUTURE TIMES)
05:00 – end Skratch (Version)
OHM
▬▬▬
23:59 – 03:00 Inga Mauer (HVNX)
03:00 – 04:00 Overmono (Truss + Tessela) [Live] (XL Recordings)
04:00 – end An-i (Cititrax)